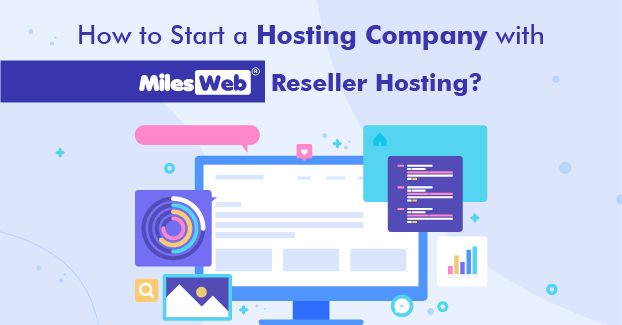 With the growing demand for websites and web development, even the smallest businesses are building their websites. Also, the web hosting industry is booming where entrepreneurs spotted an earning opportunity through reseller hosting plans. The fundamentals behind this reselling hosting plan are simple get reseller hosting at affordable rates and resell them to your clients. It is the best measure to maximize your revenue streams and build a strong brand reputation for itself.
However, if you unable to figure out how to start a hosting business, should you purchase MilesWeb's reseller hosting plans or not? We have an answer. Go through this guide to know whether cheap reseller hosting by MilesWeb is reliable for resellers or not.
Do you want to know what MilesWeb is?
MilesWeb is the leading reseller hosting provider with a top-level web hosting infrastructure to host unlimited domains. The company was established in 2012 and over the years they have served more than 40000+ clients.
After reading a small intro about MilesWeb, you might have a question about why to start a web hosting business. Here is why.
Why Start a Hosting Business?
Easy to start for users: Many web users think that starting a web hosting business is quite challenging. No worries, because web hosts will manage and set up an entire hosting infrastructure that works for you. Thus, resellers get more time to focus on perfecting on customer service aspects of your hosting business.
No more technical expertise required: Web hosts will look after server maintenance, configurations, installations, and resolving technical glitches in servers. Overall, it is beneficial for your users to get a good web hosting experience. Even non-experienced users can also begin their web hosting business with reseller plans.
Adding more revenue to your digital business: If you are already running a software development business or web development one, adding web hosting to this list is beneficial. Add web hosting services as a complementary option for your clients to generate some extra revenue. You can resell web hosting packages under your brand name only because MilesWeb offers 100% white labeled services.
Won't go out of the budget: Choose affordable reseller hosting plans to start your web hosting business. It won't put a burden on your pockets. Also, if plans and operational costs are less, you can easily scale your business with full ambitions. But ensure you also generate profit margins by rebranding hosting plans.
Things to Consider While Starting Hosting Businesses
There are certain factors and parameters for resellers that need to consider. Below we have highlighted them briefly. Read on.
1.     Know the market
First, research the market and understand how many customers you can get in the next couple of years. Also, resellers should match the latest trends while selling hosting plans. Always remember that the industry is large enough for a newcomer in the business. However, it is still a competitive space and many big players are available in the web hosting. It will help resellers in gaining a competitive edge.
2.     Define Your Brand
Next, always understand your business potential and brand value. Ask yourself why and how can you showcase your brand as a successful web hosting provider? What should be your target audience? Have the proper knowledge about the web hosting industry and know inside out all information. Marketing your web hosting brand positively will make it stronger. Even your business credibility will enhance and more customers will approach your brand.
3.     Pick Your Niche
Pick the right niche to start your web hosting business. Remember to pick a unique one because it makes you stand out. To know which niche is suitable for you, search engines will help you in finding the right one.  If you ask us about the niche, we can recommend web development, software development, or the coding industry. These niches will work as you will be providing web hosting business. Customers will also trust your brand as web development niche or relevant are related directly or indirectly to the web hosting industry.
4.     Keep an eye on Your Competitors
Once done with the brand development and choosing a niche, determine how many competitors are there of yours in the market. Remember that your brand is also from the same space in which your competitors run their business. Thus, rethink your strategy and look for different ways to make your brand unique. Adapt some amazing hosting features and market your brand on different digital platforms.
Final Thoughts
Starting a web hosting business requires good effort and resources. Make a smart strategy and choose the right seller hosting provider. For you, MilesWeb is the perfect choice that offers a 30-days money-back guarantee, fast SSD storage, free SSL certifications, unlimited bandwidth, and other features to host domains with minimal latency.
Related Posts