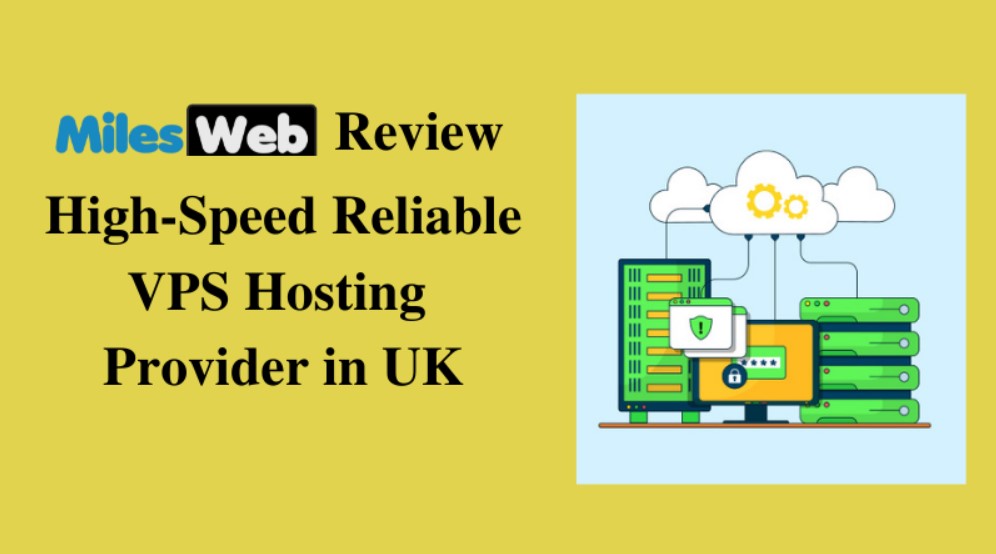 Is your website loading slow? Do you want to accelerate the speed of your website? You need VPS hosting when the website grows in size and if you want a super-fast speed for your websites.
VPS(Virtual Private Server) is between shared and dedicated hosting. It is one of the hosting types which is resource-rich compared to shared hosting, yet much easier and cheaper to manage than a dedicated server. But the question is, which VPS hosting provider is good? Because there are a lot of good hosting options available out there.
A good VPS hosting provider should offer services at an affordable price and has to be generous when it comes to website resources.
To find some of the best VPS hosting providers in the UK, I researched a lot. Finally, I have come up to a conclusion, MilesWeb.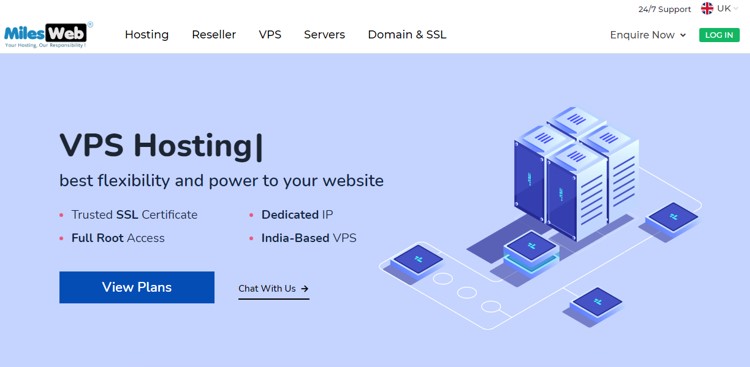 MilesWeb offers the best VPS and Windows VPS UK hosting for your resource-heavy website/application.
Let us know the rest from the review below!
VPS Hosting
VPS (Virtual Private Server) hosting is a combination of shared and dedicated server hosting. VPS hosting offers you the best features of both shared and dedicated hosting.
Signing up for VPS hosting means you don't have to share server resources like shared hosting. In a VPS, your account is isolated from other user accounts. So, irrespective of how heavy the traffic is for them, there won't be any effect on your website's performance.
The right time to move to VPS hosting is when you might need to achieve a certain level with your projects or whenever your shared hosting falls short of resources.
A VPS is a single physical server divided into multiple virtual segments. You don't have to share your virtual server resources such as RAM, CPU, disk space and bandwidth with other users.
If you are a web designer/developer, you can opt for cheap VPS UK hosting to power complex websites and web apps.
Features You Get With the Efficient VPS Server of MilesWeb
SSH and Root Access
With the Linux managed VPS hosting plans of MilesWeb, you get full root SSH access. The SSH and Root Access gives you complete control over your virtual private server environment.
Host Multiple Websites
With MilesWeb's VPS hosting plan, there are no restrictions on the number of websites you want to host under the same VPS account. You are allowed to host and manage multiple websites from a single virtual private server.
Resource Monitoring Dashboard
You can perform several tasks such as reboot VPS, monitor memory usage, check the server load and manage other configurations of the VPS server with the resource monitoring dashboard.
Choice of Operating System
With the VPS hosting plans of MilesWeb, you can pick the operating system of your choice.
Here are the different options available:
CentOS
Ubuntu
Debian
Suse
Fedora
High-Speed & Performance
MilesWeb offers state-of-the-art technology solutions for your VPS hosting. Their focus is to provide the best speed and compatibility for the heavy resource website/applications running on your server.
Best Features of MilesWeb's VPS Hosting
24/7 Customer Support
MilesWeb ensures that you have a great experience while hosting your website on MilesWeb's server. If you face any issue with the managed VPS, their expert team is ready to assist you via email or live chat 24 hours a day.
99.99% Uptime Guarantee
MilesWeb promises an uptime guarantee with its VPS hosting service. The VPS server of MilesWeb uses the latest software and hardware components.
SSD Based VPS Server
With VPS hosting of MilesWeb, you can host websites on the server with built-in 100% SSD drives. They use SSD technology with all servers to ensure that you get high-performing VPS hosting. SSD drives are considered as one of the fastest and most advanced memory storage units. These servers are perfect for handling heavy web applications and huge database operations of high-functioning websites.
VPS Hosting Plans & Pricing
MilesWeb has six plans for VPS hosting, V1, V2, V3, V4, V5 and V6.
The base plan of VPS hosting V1 costs £17.50 per month on three years of subscription.
Here is an overview of the pricing of each VPS hosting plan.
V1 costs £17.50 per month on three years of subscription.
V2 costs £24.50 per month on three years of subscription.
V3 costs £45.50 per month on three years of subscription.
V4 costs £87.50 per month on three years of subscription.
V5 costs £175 per month on three years of subscription.
V6 costs £259 per month on three years of subscription.
To know about the resources you get with each VPS hosting plan, refer to the above image.
Conclusion
If you are looking for the best VPS hosting provider in the UK, MilesWeb is an ideal option to choose. They offer all the top-notch features that your growing website needs.
Signup for MilesWeb's VPS hosting plan and get ready to power your website today with super-fast speed and excellent support.
Related Posts