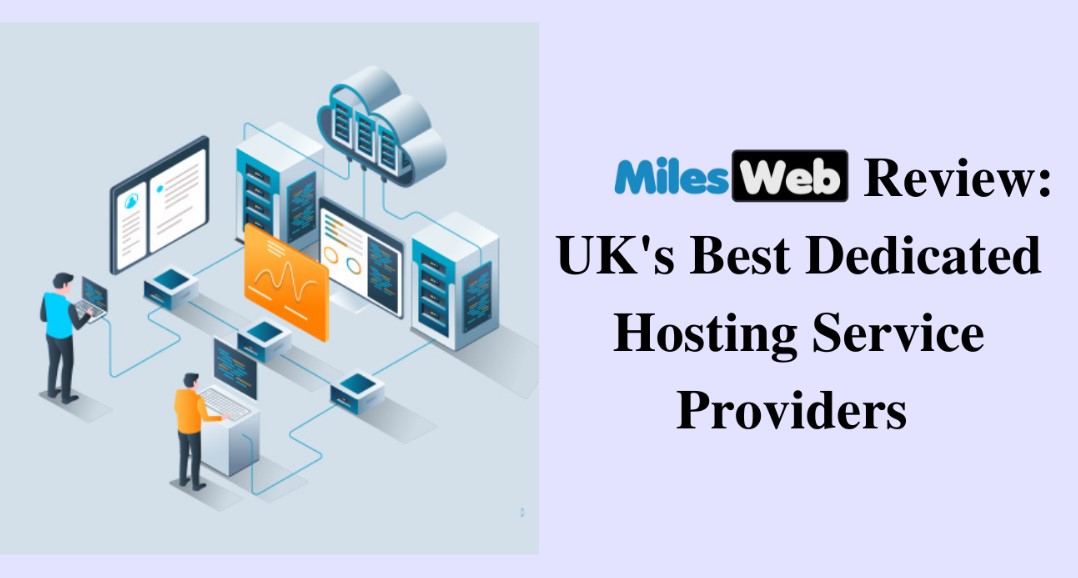 A good web host will have a significant impact on the performance of your website. They will help to give a fast and smooth experience to your visitors. Unlike shared hosting, where multiple websites are shared on a single server, a dedicated server hosts just one.
Dedicated server hosting is the most efficient solution if you are running a large website or application that needs a higher level of speed, flexibility and reliability.
MilesWeb is a trusted and reliable web hosting provider in the industry offering Bare Metal dedicated server hosting. They offer top-notch features that your heavy-resource website/application needs.
Before we begin with the hosting review, let us know a brief about dedicated server hosting.
What do You Mean by Dedicated Server Hosting?
A dedicated hosting platform offers the users dedicated resources, and the users get complete access to the server. As the resources are dedicated to a single website, this hosting service delivers high reliability and efficiency.
Dedicated hosting is an ideal option for mission-critical websites/applications that require increased power and resources for functioning. A high level of flexibility, control and speed are the best features of dedicated server hosting.
About MilesWeb
MilesWeb is an Indian web hosting service provider launched in the year 2012. They have served more than 30,000+ customers across the globe. The broad range of hosting services offered by MilesWeb are shared hosting, reseller hosting, WordPress hosting, cloud hosting, dedicated server hosting and VPS hosting UK.
MilesWeb offers all the quality web hosting services that help businesses to succeed online.
MilesWeb Dedicated Server Hosting Plans
MilesWeb has a wide array of dedicated hosting plans. They offer sufficient resources to deliver a very smooth experience to your websites/applications.
You can choose the dedicated hosting plan according to your website requirements and budget.
With each dedicated hosting plan, you get full server control, a data center in Mumbai and a 99.99% uptime SLA.
Dedicated hosting is one of the most expensive web hosting services. MilesWeb offers the best prices for their dedicated hosting plans.
Their base plan of dedicated server hosting, Quad Core Intel Xeon E3-1240 or higher, costs £110 per month.
The high-tier plan of dedicated hosting Dual Core Intel Xeon, E5-2630 v3 or similar costs £785 per month.
You can refer to the above image to know about the resources and pricing you get with each dedicated hosting plan.
Powerful Features of MilesWeb's Dedicated Hosting
Here are some of the powerful features of MilesWeb's dedicated server hosting.
Highly Powerful Servers
All the cheap dedicated servers of MilesWeb are powered by high-quality, enterprise-grade hardware from top leading players in the industry like HP, Dell, and Supermicro. Their servers offer top-notch speed and performance to your websites.
SSH Root Access
MilesWeb gives you root access with each Linux dedicated server hosting plan. You have full control and freedom to install your web applications on the server.
High Performance Guaranteed
MilesWeb's servers are built to deliver the highest performance and ensure that even the most demanding web server applications run smoothly without any hassle.
Free Setup without Any Contract
MilesWeb does not charge any extra cost for setting up the server. You can cancel the plan anytime. You don't have to pay any cancellation or penalty charges.
Customization
With dedicated server hosting, you can run custom applications on your server with a custom environment. You can rest easy that the heavy web applications run smoothly without any glitches.
High Level of Security
With a physically isolated environment, there is utmost security and privacy of your bare metal server. It reduces the risk of threats because the bare metal server is completely isolated from others.
Reliability
In dedicated server hosting, as the server resources don't get shared with any other users, the bare metal servers are highly reliable for your resource-heavy websites/applications.
Choice of Operating Systems
You get a solid range of OS choices: CentOS, Debian, Ubuntu, Fedora and Windows OS. You need to select the OS of your choice and inform their technical experts so that the setup is ready and you can get started within just a few minutes.
Service Level Agreement (99.99%)
Uptime guarantee is a metric that determines the amount of time your website will be up and accessible to users. MilesWeb provides the highest levels of uptime guarantee (99.99%). Your website will always be up and running to give your visitors a happy surfing time.
Key Features of MilesWeb's Dedicated Server Hosting
IPV4 and IPV6 addresses
Every bare metal dedicated server of MilesWeb incorporates one IPV4 and IPV6 address. You can purchase more IPs if needed at an extra cost.
Premium Bandwidth
MilesWeb offers bandwidth ranging from 100 Mb/s to 1Gbps for your bare metal server.
Conclusion
A dedicated server is an ideal choice if you want to host a mission-critical website or application. MilesWeb provides the best dedicated server hosting in the UK.
Subscribe for their dedicated hosting plans and take your heavy-resource website to the new high.
Related Posts